Reading Time:
4
minutes
Regardless of the length of your trip; be it a weekend getaway to Thailand or a three-week adventure across Europe – you'll want to pack a bag that can meet your needs.
There's a lot to consider of when deciding what to bring. From the kind of trip and the duration of your trip, your itinerary, the weather, the size of your luggage or weight limits restricted by your mode of travel. With so many considerations, it is easy to overpack or underpack, especially when you leave things to the last minute.
Here is where IUIGA comes in; with a three-part series designed to help you bring just the right amount of stuff and get ready with short notice. Part 1 covers great ways to pack your luggage.
Folding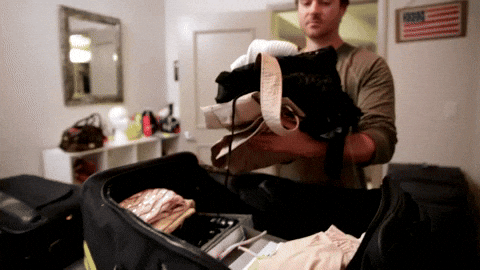 Everybody's default.
Folding clothes is the default go-to packing method. After all, it is the same way how most people pack their laundry in their cupboard.
Pros:
It is quick and easy.

 Doesn't require much effort as, if your clothes are packed in your cupboard, you'll only need to transfer it from your cupboard to your suitcase.

Works well for structured clothes.

 Clothes such as dress pants, jeans, button-down shirts, jackets, and sweaters. If you decide to pick up a sweater and start to roll it instead of folding it, you'll realise that it'll take up more space in your suitcase. Most people who go on a business trip will use this packing method. As rolling of such clothes will cause wrinkles and creases.
Cons:
Not ideal for thin, soft clothing.

As any of your thin and soft clothing items, such as t-shirts, are more likely to get creases.

Space inefficiency.

As clothes come in various sizes and shapes, unless all of your clothes are of the same size and shape, it will leave inefficient space gaps. Many small gaps.

Hard time picking clothes.

When you pack your folded clothes, usually you'll place them on top of one another. Therefore it is hard to get that shirt that you want which is buried in the middle of the pile of clothes. When you managed to get it, you'll leave a mess in your suitcase.
Rolling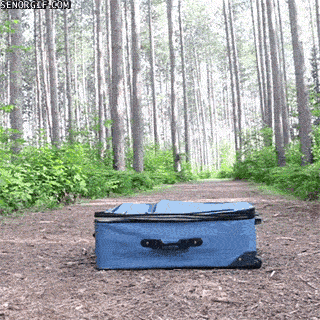 Roll Don't Fold 
This method of packing is very compact and versatile. In fact, out of the three methods, it is the most space efficient. All you need to do is to take out a bunch of your clothes, and sit down and roll them. This method is fast and it reduces wrinkles too. This method is great if you have a bit more time to prepare.
Pros:
Space is king

. You'll be able to maximize your luggage space, as when you roll, you are squeezing out the air spaces within your pieces of clothes.

Easy Viewing.

As your clothes won't be stacked on top of each other, you'll be able to see it all at a glance. At the same time, you won't be making much of a mess when you're searching through your clothes.
Cons:
Not ideal for bulky clothes.

It is ideal for thin soft clothes such as t-shirts, swimsuits, shorts and the like. However, it is not ideal for bulky clothes such as sweaters as it will actually take up more space.

Not ideal for formal wear too.

It'll form more creases for button-up shirts as the fabric gets bunched up as it rolls.

Will cause crease and takes up more space if you're not a clothes rolling devotee.

Yes, even for thin soft clothes. If you're not rolling it the proper way, it will form creases. At the same time, the shape is not consistent and thus creating more inefficiency in space usage.
Packing Cubes
For the perfectionist
As the name suggests,  these packers are cube-shaped pouches that are simple yet ingenious. Packing cubes are extremely useful for organizing your clothes in your suitcase and backpack.
Pros:
Keep it organized.

Packing cubes will make it very easy for you to organize your clothes. If you have sufficient packing cubes, you can label the packing cubes. From 'Day 1 outfit' to 'Beachwear', or 'Formalwear' and anything that you could think of. Even toiletries.

Mess be gone.

When you have made up your mind to wear this certain set of clothes for the activity for the day, you do not need to dig for it and make a mess. Just simply take the packing cubes and put the rest back.

Able to compress your clothes.

Allowing you to bring more clothes and giving you more suitcase space.
Cons:
Costly.

Certain packing cubes may be costly. Such as a set of 3 packing cubes could cost you between $40 – $50. Some of you may think that packing cubes are not necessary and you could go on with the first 2 methods.

Not the most space efficient.

 With packing cubes, you cannot avoid having air gaps between pouches and cannot save as much space as compared to rolling. 
Conclusion
So, which method suits you best? Rolling, Folding or Packing Cubes?
If you're going for packing cubes (they're really cool by the way), IUIGA does provide you with high-quality packing cubes at an affordable, transparent price without compromising on the quality!
Check them out here!