Reading Time:
7
minutes
Following our first article on how to best pack your luggage, we will be covering another important aspect of travel packing; the luggage.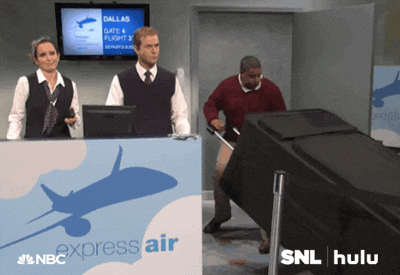 As amazing as travel can be, it also can be stressful. From needing to catch the flight on time, finding proper accommodation to circumstances where you lose your wallet, means of communication to times when you need medical care; Murphy's law applies. Hence when you go on your travels, you'll want bags or equipment that is reliable so that there's one less thing to worry about.
A luggage is more than just storage for your belongings. It is a style statement and most importantly, your trusty travel companion. Can you recall that frustrating moment when you, or someone you know, had to deal with lost or damaged belongings simply because your luggage gave up during your trip? *shudders* We can't overstate the importance of getting a great reliable luggage, so here's a comprehensive checklist of 7 things you need to consider to find the perfect luggage for you.
Soft Case Luggage vs Hard Case Luggage
In terms of luggage material, the age-old debate has always been about whether to get a soft case luggage or hard case luggage.
For soft case luggage, here are the main benefits and drawbacks.
Benefits
A Soft case luggage takes up less space when they are open. This means you can probably get away with not unpacking during short trips
Size factor – You can easily fit a soft case luggage into a car boot or even put it in beside your seat in the car.
Convenience – A soft case luggage often has a lot of different pockets outside the bag that allows for quick access for things like you bottle, passports or tickets.
Expansion Pack – Soft case luggages often have an expansion section which is useful when you buy too much stuff on your travels. However, this affects the general resilience of the luggage.
Drawbacks
Compared to a hard case luggage, a soft case luggage is usually less sturdy and has fewer features.
A soft case luggage is also less secure as thieves can easily take the things from the outer pockets or use a sharp knife to cut through the fabric.
Reduced protection – A soft case luggage is not as good as protecting your belongings as it is unable to absorb external impacts and shocks as well as a hard case luggage.
In comparison, here are the benefits and drawbacks of a hard case luggage.
Benefits
Lightweight and strong build. A hard case luggage generally has a better strength to weight ratio in comparison to a soft case luggage.
Added Security: The hard case prevents your luggage from being cut open or a stranger adding something to the exterior pockets of the luggage.
Maximized Space: As a hard case luggage has only one major seam, you get more travel packing space.
As mentioned earlier the hard shells are very sturdy and strong. When dropped, the luggage has better impact resistance and protection for your fragile items
Drawbacks
Most hard case luggages cannot be expanded.
Not very car friendly – If you are traveling a lot on the road, having hard suitcases will be harder to manage.
Space constraint – When open, a hard case luggage take up more space
Personally, the choice is clear as when I travel, I tend to carry valuables and breakable items like my camera. I am also concerned about how secure the luggage is as well. For most use cases, the hard case luggage is the better choice.
Best Luggage Material – Not All Materials Are Created Equal
In addition, hard case luggages are made of different materials as well. They are usually made of ABS, Polycarbonate or some kind of metal alloy.
ABS (acrylonitrile-butadiene-styrene) Luggage
In the luggage making industry, ABS is usually the cheapest hard material used. Although this plastic is very light and can expand ever so slightly, luggages made from this material are less durable and impact resilient. Keep a lookout for this material is specifications and product descriptions as luggages made from this material are not as reliable.
PC (Polycarbonate) Luggage
In terms of luggages, polycarbonate is one of the more popular luggage material as it is strong and lightweight. Polycarbonate luggages can bend and be dented yet still can be easily reverted to its original shape. Moreover, the luggage the luggage is almost impossible to break and has one of the highest strength levels in terms of luggage materials. They are also usually more expensive as a good PC luggage from the likes of Samsonite can set you back about S$200. The one we sell actually starts at S$84 for the 20-inch version. Unlike normal luggages made of PC, the Aluminium Alloy Frame Luggage has a PC shell that is reinforced with an aluminum frame and corners that makes it more resilient.
Aluminum or Metal Alloy Luggage
Otherwise, you can consider luggages made from Aluminium or metal alloys that contain Aluminium and Magnesium. Aluminum luggages have been around for a while and are considered the most premium material due to its stylish looks, better durability, and cost. However, this strength comes with a caveat as these luggages are more heavy and prone to dents due to the nature of aluminum.
. Naturally, this comes a more premium price tag. Usually, a luggage like this will set you back about S$700. The one that we sell however costs only S$159 and is manufactured by the same manufacturers that manufacturer luggages for Samsonite so you can be assured of the quality.
Check The Luggage Internals
Internal capacity isn't the same as dimensions. It's the storage space your bag actually has. You will want to have as much packing space as possible. Check to see if the main compartment stretches out to the edges of the luggage.
On the other hand, this has to be balanced by the utility of the pouches. The Full Aluminium Magnesium Alloy Luggage we carry has separate pouches on the left has compartmentalized pouches for better organization. On the right of the luggage, there is a compression strap that secures all your items so it does not fall out when you open the luggage.
No Zippers
As the video above shows, it is amazingly easy for some to open your luggage, rip out all your stuff and close it up with no sign that they were every in it. All you need for this is just a ballpoint pen and a bit of determination to pick this luggage without touching  the lock. Luggages with zippers make your luggage just that bit more vulnerable and unreliable.
Check the Crush Resistance/Compression Resistance
Another thing you'll need to check when you buy a luggage is the crush resistance of the luggage. According to AMETEK:
"Crush resistance testing involves the measurement of a compressive load to a point when a sample deforms, fractures, shatters or collapses. This type of test may be applied to a variety of products including corrugated cardboard, glass, bearings, bricks, concrete, or any sample where crush resistance is important. This is a common test used in packaging design and validation."
In other words, this is the amount of weight you can apply on the luggage before it warps. Generally, you should look for luggages that have a crush resistance of more than 100kg as this can withstand most rough handling situations such as the baggage handler throwing your luggage around. You'll be glad to know that most of our luggages have at least 150kg of compression/crush resistance.
<ul
2 Wheels Good 4 Wheels Better
In most travel situations, having a luggage with 4 wheels is the better choice. They are a lot easier to manage and maneuver, better balanced, be pushed in front of you and require less effort to move around as well. With 360° rotation, you will be able to move two luggages around at once as well. In comparison, it is a difficult juggling act to wheel two 2 wheel luggages at once. You will also be careful when packing as they can easily tip forward. When navigating the plane aisle, they are often too wide to fit as well. However, two-wheel luggages are generally better equipped to handle rough roads better than 4 wheel suitcases although a good set of wheels on the 4 wheel suitcase can overcome this limitation.
Check For Strong Handles
At times, you won't be able to avoid overpacking… but the only thing you can ensure is that the telescopic handle of the luggage can withstand a lot of weight. Check the handles for double stitching and metal rivets as these types of handles are especially durable. You can be assured that these types of handles won't fly out when you pull too hard on a heavy luggage.
---
Now that you've gone through the checklist, I hope you have a better idea of how to choose the perfect luggage for your needs. If you are still not convinced of our luggages, head on over to any of our stores to check out the luggages on display with this checklist to experience it yourself!
Causeway Point
Causeway Point, 1 Woodlands Square, #B1-41
Singapore 738099
SingPost Center
10 Eunos Rd 8, #01-146
Singapore 408600
Tampines 1 (Opening 15th December)
10 Tampines Central, #03-12
Singapore 5295536