Reading Time:
3
minutes
2,000,000. That's the number of blog posts that are produced every, single day. To put things into perspective, the average number of words a blog post is about 750 words and it takes the average person 5 mins to read that post. This means that you will have to take 6944 days 10 hours 40 minutes to read all this content. With so much noise out there, you'll be hard pressed to find good stuff to read. Here is where we come in. This is a new weekly series where we will scan the noise and find valuable content that will elevate your lifestyle, entertain and give you value. This week since Christmas is just three days away, we will be looking at how Christmas is celebrated around the world, food plating guide, a nostalgic throwback and a place to do your last minute shopping.
How Christmas is Celebrated Around The World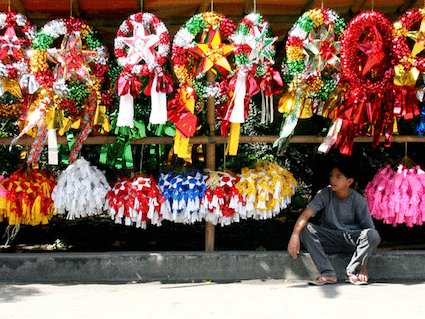 Image Credit: Kids World Travel Guide
Singapore is just one of 195 countries in the world. For me, that's a reminder of how big the world is and how different and diverse the world is. Even Christmas is celebrated very differently elsewhere. For example in the Philippines, they have a special tradition where they make called 'paról'; the lantern is star-shaped, remembering the star of Bethlehem. You can read all bout it here.
Food Plating Guide
Since Christmas is almost here, I'm sure some of you will be hosting Christmas dinner parties. The Chinese have a saying that your food needs to look just as good as it tastes. This is especially relevant in this day and age where a lot of things are shared online. This comprehensive guide from Tablespoon will help you channel your inner artist and get you started on the road to presenting your food like a chef.
PS. If you want a tray like the one you see above, we sell it in our store for just $9.90!
Google Home Alone
How many of you watched Home Alone' while growing up? This Christmas classic where the a kid manages to fight off two bungling burglars after his family left him alone for Christmas is re imagined in a charming ad from Google. Although its an ad, we can't help but fall for the nostalgia and seeing Macaulay Culkin return as Kevin from 'Home Alone.'
Where to Do Your Last Minute Christmas Shopping
If you didn't already know, we opened our second and third Retail+ stores in December! At the moment, we have stores located in these places with more in store down the road.
IUIGA Tampines 1
10 Tampines Central 1, Singapore 529536
#03-12
IUIGA Causeway Point
Woodlands Square, Singapore 738099
#B1-141
IUIGA SingPost Center
10 Eunos Rd 8, SingPost Centre, Singapore 408600
#01-146
All our stores are open from Mondays to Sundays 10 am to 10 pm, so pop by if you're in the area. If you haven't already done your Christmas shopping, condsider popping by to check out our home essentials, storage and cleaning peripherals, kitchen tools, travel must-haves, Mother and Baby stuff, vanity products, apparel and accessories. We're sure you'll be able to find something here.
---
That's all we have for this week. Pop by our stores if you have the time and here's wishing you a very Merry Christmas from all of us here at IUIGA.