Reading Time:
6
minutes
Picture this. You are in a bar and the bartender is pouring you a glass of whiskey on the rocks. You take a look at the huge ice ball in the glass and can't help but feel a bit cheated. Although bars have to turn a profit, they are not stinging on the alcohol on purpose.
Ice actually makes a big difference in the taste and your enjoyment of drinks. The water used, the shape of the ice and how fast it melts can make a very big difference in the final taste of your cocktail.
When you drop ice into a cocktail, the first thing it does is to cool your drink while diluting it in the process. Although dilution may not sound very appealing, it actually enhances the taste of some cocktails.
The alcohol experts over at VinePair found that diluting your cocktail a little actually opens up spirits like whiskey and releases new tastes and aromas. In addition, it makes the stronger drinks more palatable
Once you've accepted that ice in cocktails is a good thing, let me fill you in on the world of cocktail ice. This Cocktail Ice Guide will cover the types of ice available, what drink it is suited for and even what type of water you should use!
What Water to Use For Cocktail Ice
To make good cocktail ice, you need to start with the water. Your ice needs to me be made with fresh clean water. There's no need to go out to get bottled water, just find water that you'll be comfortable drinking. Tap water works, but if you want to run it through a filter or splash the cash to get Evian – we are not stopping you.
Another thing to note is that you should not be not using stale ice that has been stuck in the freezer for ages, as it just tastes worse. Ideally, you should use ice that has been made the day before.
Small Ice Cubes
The staple or rice for most of your cocktail needs. The standard one-by-one-inch ice cubes are the workhorse of the ice world. It melts consistently and, therefore, will not over-dilute your cocktail. Plus, these ice cubes are great for stirring and shaking.
During parties, some of you may need to play the role of the home bartender and serve drinks for everyone.
For all you wannabe bartenders out there, the number one tip is that you'll always, always, need more ice than you think you do. Running out of ice during a party could be a disaster.
Best With:
Works well with most cocktails but not the best option.
For a classier take on these small ice cubes, try our Hexagon Silicone Ice Cube Tray ($9.90),  a tray that makes fancy and functional hexagonal ice cubes. This can even be used to make jelly or agar agar!
Big Ice Cubes
The bigger brother of the small ice cube, this two-by-two inch cube of ice would fill up most glasses. Due to the smaller surface area, the ice will cause your drink to melt slower and let your drink stay consistent for an extended period of time with its good temperature and dilution control. On top of reducing the amount of dilution, it makes your drink look more impressive.
Big cubes are often used for spirit-forward drinks such as Whiskey, Rye or Scotch. With the big ice cubes, there won't be a need to stir the drink as they are supposed to melt slowly into your drink.
Best with:
Works best with spirit-forward drinks like The Martini, Manhattan or the Negroni
Crushed Ice
Crushed ice is simply cracked ice that has been smashed a bit more. Use this ice for your cocktails if you want to cool your drink quickly and don't mind the extra water in your drink. Crushed ice is meant to be served in fancy syrups and juices in warm climates as you would want to dilute the strong taste and cool it faster. Furthermore, it adds the right amount of dilution to those cocktails while keeping them consistently chilled from the tiny pebbles.
Typically the best method to make crushed ice from home is to wrap freezer ice in a clean towel or put it in a clean bag and smash it with anything that can be used as a hammer
Best with:
Works well with Juleps, tiki drinks, cobblers and other spirit-forward cocktails that need a bit of dilution.
Spherical Ice
This perfectly round ice circle is one of the most gorgeous looking ice you can use in a drink. An ice sphere actually has less exposed surface area than an ice cube of the same volume. This means that the ice melts at a slower rate, allowing you to chill your drink slowly without diluting it as much. 
Ice sphere are usually made of from a special machine that rounds off the edges and turn it into a perfect sphere. There are also beautiful hand-carved ice spheres that the skilled Japanese bartenders make. However, you take the risk of slicing off your thumb if you are not careful. For an easier way to make this get our Circulaire Ice Cube Tray ($6.50)
Best with:
Works well with spirits or stirred cocktails like an Old Fashioned or Sazerac.
Collins Spear Ice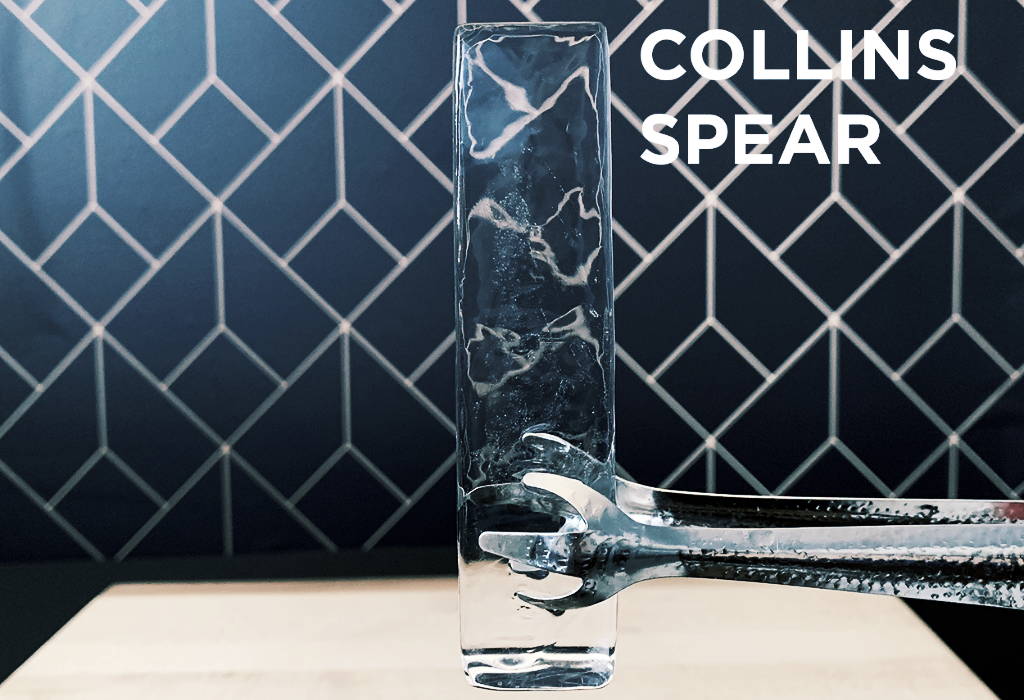 Collins Spear Ice look like a stack of one-inch cubes that piled up into a rectangular cuboid. This is by far it is one of the more impressive looking cocktail ices. However, you'll need to have a taller glass for this kind of ice to be served. Other than the incredible look, similar to the ice spheres, it melts at a slower rate as compared to the other types of ice of the same volume. It does a fantastic job of keeping the drink nice and cold without too much dilution.
Best with:
Works well with highballs like a Gin and Tonic or Whiskey soda.
Bonus: How to Make Clear Ice
Ever wanted to make perfectly clear ice cubes? You can actually make them with boiling water. Boiling the water removes most of the dissolved gasses that make ice look cloudy.
We recommend that you boil the water twice and cool it a bit for safety. Afterward, pour it into the ice cube tray and freeze it.
---
At the end of the day, you will be drinking your ice, so it should complement your cocktails. Remember to use fresh clean water, make ice that is suited and don't forget the most important thing: fantastic alcohol!
New to IUIGA? Check out our extensive range of kitchen essentials, with everything from cast iron casserole pans, popsicle molds and even a portable juice blender! New customers get $15 off their first purchase.
Use code NEW15 at checkout (Terms & Conditions Apply).