Reading Time:
7
minutes
For as long as I can remember, diamond rings have been a ubiquitous part of the proposal and engagement process. As a boy growing up, I've always been not-so-subtly hinted by my folks to the reality of one day having to save up enough for my future… – no, not for my future studies or travels around the world. But to make sure I'll have enough to buy a big sparkly diamond ring as a testament to my great love for my future partner. 
Diamonds are a measure of love.
But, is it really?
I'm sure you've heard this before – perhaps you're even living in a similar situation now: boy meets girl, boy falls head over heels with girl. And to propose, boy spends a huge chunk of his savings on a shiny piece of rock to win over girl's heart. Girl is very impressed with the size of the diamond because as her mama also taught her growing up, size matters. The bigger, the better because it measures the amount of love her partner feels towards her. So naturally, girl says yes to forever with boy.
Size matters. The bigger, the better. And the investment? At least three months' salary.
If you've been listening to the experiences of your friends who have proposed before, you'd find they weren't joking when they said they've invested a "huge chunk of savings" into the diamond rings they got. They weren't referring to just a few hundred dollars or even a month's salary when they said that.
In reality, it's at least three months' worth of pay. And that's usually the bottom line, which means most men often spend way more than that. Recently, I even heard from a close friend who got engaged over a $25k diamond ring.
Shocking, I know.
But there's also no sugarcoating it – a diamond ring is an expensive purchase. Over time, it's also become common consensus that a hefty price tag on diamonds simply implies an intrinsic value because they are perceived as 'rare', 'precious' and 'an everlasting symbol of love'. The latter, of course, nobody can and should put a price tag on. Yet, the size of diamonds continues to be a reference point to how much a man loves a woman as if these elements are all directly-correlated somehow. 
While these sentiments may sound totally absurd and outdated (because they are), what I find most ridiculous above all is how, after all these decades (from our grandparents' generation to our parents', and now, to ours), diamonds continue to be equally – if not, more – expensive.
I don't know about you, but with the changing times and shopping habits of millennials, the out-of-date culture of overpaying for diamond rings and a pricing system that lacks transparency aren't things that sit very well with us at IUIGA.
Diamonds are intrinsically worthless.
For starters, did you know that diamonds don't actually have any inherent value? I bet you didn't, but if there's one thing you take away from this article, it's this:
Once a diamond leaves the jeweller's hand, no matter how sparkly, how well its 4C's are graded, or how many months' salary you've paid for the ring, its value would have already lost up to 50% the moment you stepped out the door. 
Then, why are diamond rings still so expensive today? 
This beats us too. But you've come to the right place to find out why. In this article, we deep dive into the brief history of the diamonds industry so you don't have to. We even share some useful tips for the day you find yourself diamond ring shopping.
Diamonds are No Longer Rare

Okay – let's take a trip down history and transport ourselves to the 18th century because, once upon a time, diamonds were actually extremely rare and valuable. So precious were diamonds that only people of nobility could afford them. Like other gems, diamonds that were found during mining excursions always ended up in the clutching hands of royalty, who would then commission jewellers to set them in their crowns and other fine jewellery.
It wasn't until the 1870s when massive deposits of diamonds from South Africa were uncovered and poured into the market, that their prices started to plummet through the mines.
Then, enter an English man named Cecil Rhodes, who bought up a large number of diamond mines in South Africa. With these resources at his disposal, he began to artificially limit the diamond supply, so people had a false impression that diamonds were scarce. This played out very well to his advantage because it meant he could conveniently increase his diamond prices based on the public perception that they're 'rare'. In short, what he was basically doing was tapping on people's #fomo.
And of course, like any villain in movies, Rhodes wasn't satisfied with just that.
By 1888, he had taken complete control of all diamond mines in South Africa. This was significant and history-changing because South Africa has the world's largest number of diamond mines. Having total ownership of the country's diamond mines essentially gave him entire control of the world's diamond supply.
Still, Rhodes wasn't content and wanted even more. He wanted an outlet where his diamonds could go from mine to market. This led him to buy over the De Beers cartel – whose name you might find familiar, and by no surprise. Even today, De Beers remains the world's most renowned diamond jeweller that dominates 90% of the industry. 
And why is this notable, you ask?
You see, despite having all these multiple businesses going, there wasn't really a big demand in the market for diamonds. This lack of demand plunged to a new low during the Great Depression and caused diamond prices to fall worldwide.
In lieu of this financial crisis, Harry Oppenheimer (son of De Beers' founder) worked with N.W. Ayer (leading ad agency in America then) to turn things around. And turn things around, they did. 
Promise of the Heart; a Diamond is Forever
Instead of marketing the direct brand (De Beers) or product (diamonds), Ayer proposed to market a revolutionary idea. And though it was literally crafted out of thin air, it proved to be ingenious.
In an interview with the New York Times, Ayer stated that they had worked to "create a situation where almost every person pledging marriage feels compelled to acquire a diamond engagement ring." 
With a simple but game-changing tagline: "Promise of the Heart; a Diamond is Forever", the advertisers created a powerful narrative around diamonds that would stand the test of time to come. And beyond that, they also skewed the public perception that marriage is just not complete without the all-alluring diamond ring. With this campaign, they successfully created an object of desire for the same people who didn't even think much of diamond rings in the beginning. 
And such is the effect of a successful campaign.
The advertisement spread like wildfire. Within a short time, it perfectly communicated the idea to an entire generation that a diamond ring, like your marriage, is everlasting and eternal. Not only was the campaign effective in selling diamond rings, but it also discouraged people from reselling their diamonds in the market as their lack of value would upset the 'precious' perception of the rock. So people just ended up buying more and more, believing that the high price tags were an investment instead of a purchase. 
De Beers' Most Successful Ad Campaign in History Continues to Influence You Today

If it's all starting to sound like a conspiracy theory to you, and you're not convinced – just ask the people around you how important diamond rings are to them when it comes to marriage proposals. We'll bet you most of them would say it's definitely a gift of love and commitment, and therefore size matters. And to women you're asking, they'll probably admit to expecting a diamond ring for their proposals too. As it is, we've all been influenced by mass media and past tradition to regard diamond rings as an inseparable element to a truly romantic courtship and a marriage proposal.
Today, even after more than 80 years of dominance, De Beers is still wildly successful and remains a key player in the $72 billion-a-year diamond industry. And since people everywhere are still buying and proposing to their partners with shockingly overpriced diamond rings, we know with certainty that the De Beers' ad campaign done almost a century ago, continues to influence us and our purchasing habits till this day.
So… You're saying I shouldn't buy a diamond ring for my proposal, right?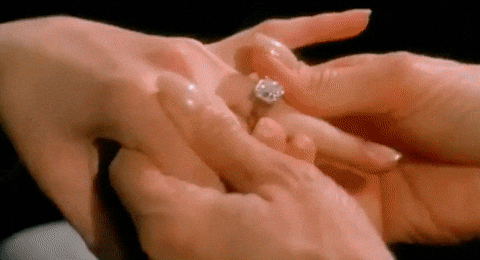 No, we're not. Don't get us wrong – diamonds are beautiful and as much as we're against how overpriced they are, we understand why people want to profess their enduring love over them. After all, they do symbolise eternity – they don't call diamonds the world's hardest materials for nothing. Beyond that, what we really want to highlight to you in this article is the exorbitant mark-up of between 300% to 1000% that has been instilled from the times of Rhodes and De Beers. It's been almost a century since the false rarity of diamonds has been marketed to us so that we can pay a pretty penny to the jewellers that benefit from our purchases. And all these years, nobody has done anything to stop this chain of overpricing diamonds. So just from a concerned consumer to another, we want you to create your own traditions and not mindlessly buy into a marketing ploy, especially when it concerns such a significant milestone and purchase in your life. 
Whether you're a man or woman, single or married, there may come a day you wish to buy a diamond ring for yourself or someone dear to you. We hope this article has given you an insight into why diamonds are priced the way they are today by retailers, so you feel empowered to make considered decisions from now on. 
---
And just in case you're wondering why we've taken in our stride to share more about diamonds – we've got something exciting up our sleeves. We'll keep you in the dark for now, but like everything that IUIGA stands for and does, it'll be rather disruptive to the traditional market, to say the least.
To find out more, stay tuned to IUIGA's blog, Facebook and Instagram and check out these diamond-related articles:
And while you're at it, be sure to join our Sqkii #HuntTheDiamond challenge – it starts on April 8. We'll catch you on the other side.