Reading Time:
8
minutes
A proposal is a significant milestone in life, but it doesn't have to be this nerve-wracking, stressful experience at all. We've heard so many horror stories of guy friends who took up to three years just to figure out how to buy a diamond ring – and that's before they spend another few months plucking up the courage to walk into a jewellery store alone.
But we empathise with your fears surrounding diamond ring shopping. After all, there's so much information out there about a diamond's four C's. As if that alone is not difficult enough to understand, there's the sales pressure and confusion that looms over you when speaking to a jeweller who may or may not have the best interest for you.
Don't worry, though. We've got your back on this one. Now that you've found us here, think of this ultimate guide to shopping for diamond rings as an explain-all cheat sheet. We've made all the considerations and steps extra easy to follow.
The Four C's
Ah, the all-perplexing four C's.
You can't escape talking about the four C's when you touch on diamonds. One of the first things you'll hear about when researching diamonds are their grades. While we agree diamonds with better-performing grades do look better, we also feel as long as it feels right to you, these factors don't necessarily matter.
Still, it's always good to know what you're paying for, especially when it comes to such a significant purchase and emotional investment.
Cut
This refers to how the rough rock is faceted during production to increase brilliance. Different cuts produce different facets/ways to scintillate light. But don't confuse a diamond's cut and shape – specifically, cut refers to the diamond's ability to reflect light and this directly affects its brilliance. Naturally, if a diamond is cut poorly, it'll not be as sparkly as a well-cut one.
Clarity
Like us, diamonds have natural flaws. Some do have lesser flaws, but few are truly perfect. We believe these inclusions add personality to the diamonds, but opinions may differ. A diamond's clarity is graded by a chart. The purer and lesser inclusions it has, the better its grade and higher its value. Similarly, the more inclusions it has, the lower its grade and value. A pro tip: while it's easy to fantasise owning the purest diamond with the least inclusions, a reasonably-graded diamond may produce the same effect and have inclusions that are invisible to the naked eye. So unless you walk around with a magnifying glass (we sure don't), nobody's going to notice them.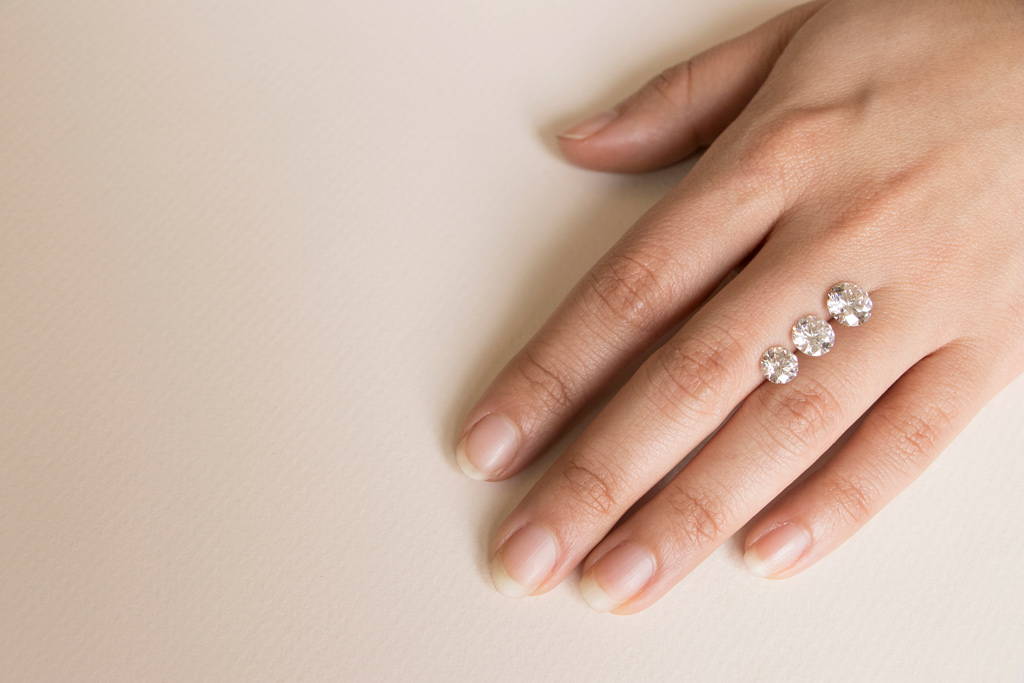 Carat
This describes the weight of a diamond. But note: a carat weight doesn't always reflect the rock's diameter since different cuts accentuate different profiles. Some jewellers may describe carat to mean the diamond and ring's combined weight, while more reputable ones will refer to only the diamond's weight and provide a separate total weight for the entire ring. Prices also increase with carat as the bigger, the rare and more desirable diamonds tend to be. A pro tip: buy just under full carats to maximise your budget. Diamond prices usually increase by half-carat, so buying just under may offer you significant savings. For example, a 0.9-carat diamond ring from Tiffany & Co. costs $12,800 compared to a 1-carat diamond ring at $26,000 – that's more than double the price! 
Colour
Have in mind what metal you'll set your diamond before considering colour. Graded by a chart of colour scale from pure white to yellow (D-Z), the best-valued diamonds usually fall between the nearly-colourless category (G-J). This chart only applies to white diamonds as black and coloured diamonds don't fit in this scale. A pro tip: shop within the G-J range to optimise your budget as colour differences are minor, but the price difference can be huge. Complement diamonds with similar-toned metals to neutralise its colour. For example, a yellower diamond could be set in yellow-gold metal to mask its tint.
Step-by-Step: How to Buy a Diamond Ring
Now that we've ironed out the most difficult parts, ready your wallet because you're ready to roll. Finally. This guide is great for clueless men but equally helpful to those looking to buy a sparkly-something to treat themselves.
1. Set your budget and try to keep to it. But also, no need to break your bank over a diamond ring.
Contrary to traditional (now outdated) belief, you don't have to spend at least three months' salary on your diamond ring for proposal – unless you want to, of course. The love you share with your partner can't be defined by any material or financial means, so whatever you're comfortable with will be the best decision. And after you read this article, you'll also agree it's just not worth it to overpay for diamond rings anymore.
When budget-setting, have an open discussion with your partner to manage expectations – or at least pick up the hints she drops sporadically over time. Make sure there's alignment between her preferences and your budget. After all, there'll be other incurred costs for the engagement and wedding. Make sure the diamond ring she says yes to forever won't become a liability of your shared future.
Working with a budget is important as it helps you zoom in on the range you can afford. If you intend to buy offline, there's a higher chance you'll get charmed into buying something above your budget. Did you know traditional mark-ups at retailers are usually between 300% to 1000%? Our article will educate you on how the market derived this percentage. It's huge, so weigh your options well.
For those searching online, there're considerations too. For starters, if you prefer physically experiencing the diamond ring before buying, that might be a problem.
2. Identify the diamond cut desired by the recipient.
If you don't know or can't find out, consider brilliant or princess cuts as these tend to be the most sought-after. They are also classic and transcend time.
3. Manage expectations of carat weight.
Based on the recipient's preferences, set a minimum carat weight. When there's an explicit preference, even a half-carat lesser may dull the sparkle for your recipient. While we don't think this is the most important C to consider, it's always better to manage expectations.
4. Start with the highest quality diamonds based on the recipient's preferences, then compromise accordingly to your budget.
You always want to start with looking at the best diamonds based on the recipient's preferences – high-quality ones that you may not be able to afford but look anyway. Break the ice and make this a learning experience for yourself too. And in this suggested order, make concessions until you find something that speaks to you and fits your budget:
First, lower the clarity to as low as VS2 before making other concessions.
Second, lower the colour to as low as H before making other concessions.
Then, lower the cut to as low as Very Good in round diamonds, and Good in fancy shapes before making other concessions.
If you find something close to your budget after these compromises are made, consider buying just under the carat weight in order to stretch the dollar. Carat weight difference of 10% or less isn't detectable.
5. If you're still outside your budget after these compromises, make more concessions in this suggested order:
Reduce clarity as low as SI1.
Reduce the colour as low as J. If the diamond is set in gold, you may go as low as K.
Finally, reduce the cut as low as Good in round diamonds, and Fair in fancy shapes.
You should be good to go after these concessions.
Where Can I Shop for Diamond Rings?
Diamond rings are available in many places, offline and online. We kid you not when we say the diamond industry is so huge, it's worth $72 billion-a-year. To break it down for you, that's $6 billion-a-day and $250 million-an-hour, worldwide. So it's not surprising that aside from traditional retailers, many vintage jewellery sellers and indie jewellers have been surfacing over the past few years to have a slice of the market pie.
The lowdown is, you can get diamond rings anywhere you're comfortable with. If you're considering getting it at a retailer, the plus points are you get to physically experience the diamond ring before deciding, and you have a brand representative to talk you through your options. This is, of course, the convention of buying diamond rings – it's the same way our parents and their parents probably bought theirs. Many people today still prefer this method as they feel it's more secure. Just remember the mark-ups are really very high, and in our opinion, just not worth paying for at all.
If you're a rebel-at-heart and enjoy doing things the unconventional way, we're with you and you have options.
For the sentimental couple, you can visit vintage sellers and request to view their collection. Of course, with the nature of buying second-hand, you may not find the exact piece you've in mind. But vintage pieces are one-of-a-kind, so its rarity may triumph the design for some. And if the size doesn't fit, most jewellers provide resizing, resetting and restoration services.
If you're well-read on diamonds and familiar enough to not be charmed, then you can visit a gemstone and diamond supplier. There, you can choose from a myriad of options for your budget and preferences. But for the uninitiated, the experience can be overwhelming, especially if you don't know what to look out for. Unless you're already a seasoned buyer, we don't encourage you to go this route.
Finally, you can shop online. The options are many regardless of your budget and preferences. Whether you're more inclined to shop with a heritage jeweller or the more contemporary brands, most of them are available online. Plus, we believe the future is digital anyway, so this seems the most intuitive way to shop. Of course, let your heart guide you. But do your research and weigh your choices mindfully. Read up about the brand, their diamonds, designs and practices – but more importantly, secure your purchases by understanding their exchange and refund policies.
From Screen to Life: the IUIGA Home Try-On Experience
With all the obvious clues we've been dropping like it's hot on Instagram, it's no secret now IUIGA is launching a Solitaire diamond ring, which will be available exclusively online.
"Online-only? Then how am I supposed to know which fits me best?"
We thought you'd never ask.
Bordering on revolutionary, IUIGA is extending a home try-on experience for anyone who's keen and curious. Each try-on set includes three sample rings in your selected carat weights and ring sizes. Simply place your sample order online and we'll ship it to you via insured next-day delivery. All try-on rings are crafted with alloy metal and cubic zirconia to best represent the style (not quality) of our diamond rings.
This reimagined experience allows you and your partner to decide on her proposal ring together, and we cannot think of a more inclusive experience. After all, most women do think about their ideal proposal ring now and then – but then to be largely excluded out of the shopping journey just sounds odd to us. If you prefer, you can opt to send it anonymously too.
Once the decision is made within seven working days, return it back to us at your convenience. Then, if you like, start personalising your dream ring with us. 
And the best part? You don't have to pay a single cent for it. You heard it here first.
---
The IUIGA Solitaire will be launched later this month, and we can't wait to be part of your proposal journey.
For more updates, stay tuned to IUIGA's blog, Facebook and Instagram. Check out these diamond-related articles as well:
And while you're at it, why not join our Sqkii #HuntTheDiamond challenge? It starts on April 8.
We hope this extensive article has empowered you to make better decisions and more mindful ones. You're welcome.