Reading Time:
4
minutes
Recently, IUIGA just launched a new channel called Group Buy. Group Buy allows our fans to enjoy IUIGA favorites at a major discount. For some products, the Group Buy discount can go up to 90%!
Why Group Buy?
From our discussions with you, we heard your comments about the high shipping costs incurred with every purchase. We also realized that a lot of our fans are coming together and collating orders in order to hit the $88 minimum spending to reduce shipping costs.
This gave us the inspiration to introduce a new channel called Group Buy. Not only can you save on shipping fees, you also enjoy discounted prices of up to 90% when you share your purchase with your friends. With IUIGA's controlled profit margins, we received some questions on how we can offer such extensive discounted prices. Here's how: by tapping on the power of social network. With the help of social network and peer-to-peer review, we minimize IUIGA's marketing costs. This allows us to sell our products at even lower prices, without making a loss.
How does the Group buy work?
The Group Buy is available on IUIGA's mobile site, and mobile app. Follow this set of instructions to get access to the Group Buy channel!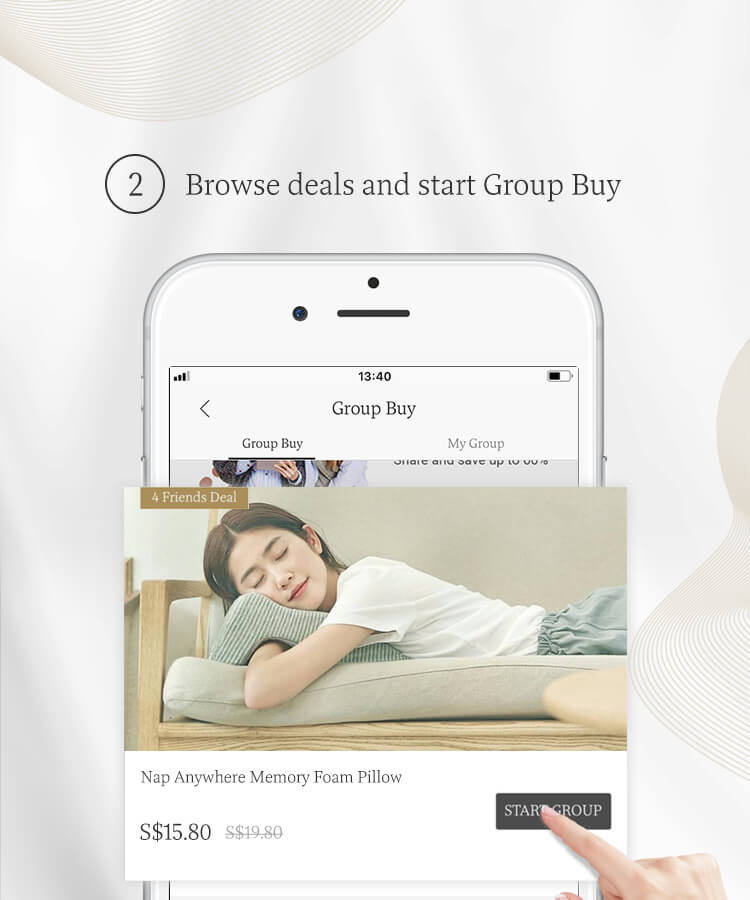 Save, save, save!
Now, for the most important part – the discounts! With the Group Buy channel, customers can enjoy extensive discounts by,
a. Saving on shipping fees 
Be the first to start a group as group leaders can enjoy free next day delivery with no minimum spend! Here's an IUIGA hack: Other group members can save on the $7 shipping fees too! Just get your products delivered to your group leader's place, and collect it from your friend personally afterwards.
b. Saving on product prices
You can get many IUIGA favorites at a steal. Our all-time bestseller, the Sonic Silicone Facial Cleansing Device is already a steal at $23.90, compared to the Foreo which costs at least $159. With Group Buy, you can get it at an even better price – $21.90!
Nap Anywhere Memory Foam Pillow at a 20% discount:
Cosmetic Organizer Bag at a 89% discount.
Set of 2 Fleek It! Eyebrow Trimmer and Shaper at 69% discount. Whoever said beauty comes at a price!
Siesta 3-in-1 Convertible Baby High Chair at a 24% discount.
Pro Clean Sonic Electric Toothbrush at a 13% discount.
Borosilicate Glass Water Pitcher at a 9% discount.
Tritan BPA-free Sports Water Bottle at a 70% discount.
Group Buy is the best way for our fans to get access to exclusive discounted prices, and if you want to be the first to access IUIGA favorites at a major discount, download our app on the app store for iOS and Android!
Still confused? To find out more about Group Buy, click here!