Reading Time:
7
minutes
I'm sure all of us have a lucky friend who can sleep almost anywhere; even when you are talking to them. Sleeping on a plane come naturally to them as you'll hear them snoring moments after the plane takes off.
But somehow or another, you struggle to just get a good 5 minutes power nap at the office or on the train. This is made worse when you are taking planes, where sleep is important to get your rest for the journey ahead. You're not alone in this as a lot of people struggle to get quality in-flight sleep.
But fret not. This stage by stage guide curates advice given by sleep scientists, travel medicine doctors and sleep sciences coaches to aid you in sleeping like a baby on your next flight. Read on if you want quality sleep on the plane!
Before Boarding
Choose The Right Seat 
You can skip this point if you're flying in business class or first class as the things that affect your sleep on economy class don't apply here. According to the travel medicine specialist Dr. Richard Dawood, you pay a premium for Business Class and First Class seats as they are designed to allow the passenger to sleep well during travel. You pay for perks like being able to sleep in a lying position on their luxurious seats.
Don't worry, it is still possible for a good, refreshing and comfortable sleep if you opt for economy class or budget airlines. If your airline offers it, pay for the seat with more legroom as it would make your journey that more comfortable.
We would recommend that you take the window seat for these three reasons. Firstly, you won't be bothered by your neighbor when they need to go to the toilet. Secondly, you can lean against the wall or window to rest your tired head. Lastly, if it is very sunny, you won't have to engage in awkward conversation with your neighbor to get them to shut the blind as you can do it yourself.
Protip. Pick a seat towards the front of the engine, and nearer to the wings, as there is comparatively less noise and turbulence. Avoid getting a seat near to the toilets as they are is going to be noisy due to the high passenger traffic. Not to mention the smell…
Dress Comfortably Without Fear of Judgement
You will not get a decent sleep if you're not physically comfortable. Chances are, you won't ever be seeing the people you meet on the plane ever again. With that in mind, dress as comfortably as you are comfortable with.
Opt for comfortable clothing that will help you snooze. This means clothes that are looser and less restrictive. Examples include things like an oversized hoodie, comfy sweatpants, and your more presentable sleepwear. Also, be sure to wear an extra layer of clothing like a sweater or jacket you can easily take on and off as it can get cold on the flight.
There are many other ways to make yourself physically comfortable too. We would recommend that you put on comfortable shoes that can be removed and worn easily. Don't forget to wear socks to keep yourself warm.
There are some frequent flyers, or people who earn a living from traveling, go as far as changing into their 'flight pajamas' once they board the plane. Yes, you actually purchase and customize personal pajamas for traveling so the plane seat becomes more like a bed.
Avoid Sleep Medication With The Exception of Melatonin
Chairman of the National Sleep Foundation (US) Max Hirshkowitz advises caution when taking sleep medication. if you do not know the effects it has on your body. This is especially dangerous when you are traveling alone.
He added that many of the sleep medications you can get over the counter have antihistamines in them. These medications generally last longer and may cause you to feel groggy even after the flight.
However, if you really need help sleeping, consider melatonin pills. There are many studies that suggest that consuming melatonin will move your circadian rhythm and helps you sleep better. Take Melatonin pills one or two hours before your flight and ensure that you are wearing a great sleep mask that tricks your body into thinking that it is dark.
On Board The Airplane
Food and Drinks to Avoid
If you're going on long haul flight that lasts more than 10 hours, avoid having a meal 2 hours before if you want to sleep as you board the plane. Avoid overeating and eating fatty foods and spicy foods. Eating such foods would require your heart to work harder to pump more blood to your stomach and intestines. The increased heart rate is something you'll want to avoid you're on your long haul flight when you want to get some shuteye.
In addition, you should avoid drinking alcohol as although it will make you sleepy, but you'll only be able to get a couple hours of non-restorative sleep. Instead, you should drink cold water as it helps stabilize your body's hormone levels to help you sleep better.
Sleep Posture is Everything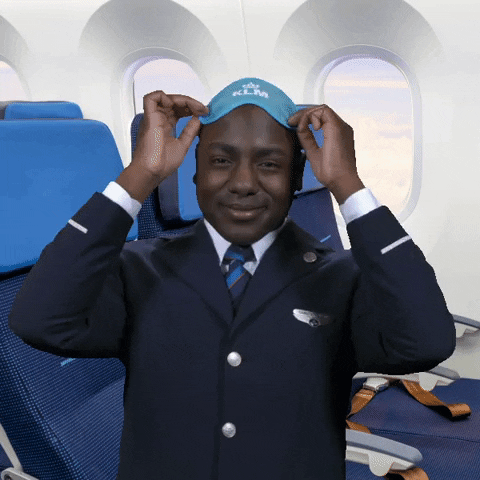 Your sleeping posture plays a big role in providing you a better sleep. We understand that it may be awkward to recline the seat fully when you're in the plane. However, you will not be able to sleep as well in a straight posture as compared to a reclining posture. What's worse is that you'd be hurting your back too. If your back is not as strong, sleeping in a straight posture might lead to lower back trouble. If you're thinking: 'then, I'll lean forward!. That is actually worse for you. Leaning forward to sleep puts the most pressure on your spine, aka discs, which is one of the most vulnerable parts of your body.
In general, most aircrafts seats are built to have sufficient space between it so that the seat can be reclined. Unless the passenger behind you complains, make yourself comfortable.
Support Your Long Suffering Neck
Speaking of reclining, the max you can recline a chair in economy class is only about a hand's length. This is bad news for your head as your neck will not have enough support to allow proper headrest. Chris Brantner Chris Brantner, Certified Sleep Science Coach at SleepZoo.com recommends that you go with a neck pillow as it gives your neck and heads the proper support it needs for a good sleep on the plane.
We recommend the Nylon Fitted Neck Pillow as it is packed with 5 million beads that meld around your neck and head for proper support. The exterior is also very breathable and it can be used as back support and a desk pillow even when you are not traveling!
Into Darkness With an Eye Mask
To get some sleep on the plane, you will need to fool your body into thinking that it is dark. According to Comprehensive Sleep Medicine Associates' Jerald H. Simmons, MD, your brain's pineal gland will produce elevated levels of melatonin in an environment where no light can reach your eyes. Melatonin is the hormone that regulates your circadian rhythm. With more melatonin in your body, you will be able to sleep better. Thus, a quality eye mask is crucial for getting great sleep on a plane.
The Basic Travel Eye Mask ($6.90) in particular blocks out light exceptionally, and is lightweight with good air permeability that will not press down on your eyelids while you sleep. Plus, it's got a flexible rubber strap that conforms to your head size. It even comes with a travel-sized pouch!
Make sure the seat belt is visible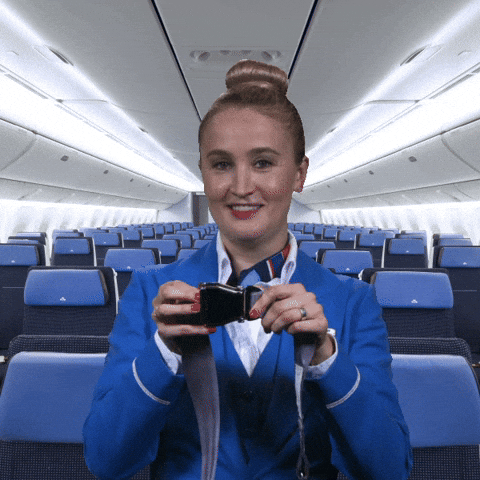 Another tip to get better sleep is to make sure that your seat belt is always visible to the attendants. After following the previous steps, you're finally getting sleepy and ready to have a good sleep. I'm sure you would not want to be woken up by the attendant after 5 minutes into your sleep just because they thought that your seat belt is not buckled.
If you plan to bring your own blanket or ask for 1, make sure you buckle your seat belt over the blanket. If you want to hug something to sleep, make sure your seat belt is not covered.
Bonus: Noise-cancelling Headphones Help
When the airplane is in flight, there is usually a barrage of ambient noises that assault your hearing. From the constant 'rumbling' noise you can hear from the engines, babies crying and other people having conversations. Although earplugs help block out some of this stressful sleep-disrupting noise, we would recommend noise-canceling headphones. On one level, Noise-canceling headphones like the IV190 Lite Wireless Noise Cancelling Headphones blocks out the noise with its physical design. In addition, they go a step further to cancel out ambient noise to help you relax. Here is how the technology works.
The IV190 Lite Wireless Noise Cancelling Headphones have a microphone in the earpiece that detects ambient noise. The electronics in the headphones than produce a sound wave that counteracts the ambient noise without reducing the levels of the audio you want to hear. This means you can also listen to music at lower volumes which is great for your ear health.
Usually, these noise canceling earphones are rather expensive, with the famous Bose Quiet Comfort 35 II costing as much as $494.39. You'll be glad to know that the IV190 Lite is manufactured by the same experts who make headphones for renowned Japanese audio brand, Audio Technica. The price? Just $69.90!
---
Although sleeping on a plane may sometimes seem like an impossible dream, follow these tips from sleep experts and you'll be having quality in-flight sleep on your flights in no time.
New to IUIGA? Check out our extensive range of travel essentials, with everything from universal travel adapters, packing cubes, and even a Really Transparent Luggage! Don't say bojio, new customers get $15 off their first purchase.
Use code NEW15 at checkout (Terms & Conditions Apply).