Reading Time:
6
minutes
Perhaps you've never heard of carbon steel before, and are more familiar with cast iron instead. After all, the latter is the OG for older home-chefs. Or maybe you've laid your eyes on some of these wares while shopping the kitchen department recently. But do you actually know what their differences are – should you care; do they really matter that much?
In reality, you can think of cast iron and carbon steel as fraternal twins. Similar in so many ways, but each has a distinctly different personality, strengths and weaknesses from the other. Whether you're a pro or an avid cook/baker, read on why carbon steel is the way forward in your future kitchen adventures.
Psst. Baking enthusiasts – got your mittens on? Don't miss the (bonus) baking recipes below.
Get to Know Them
Cast Iron
For the uninitiated: devotees of cast iron swear by the material. Most cooks and bakers, as long as they work regularly with cast iron, will express their pride and joy of the patina on their beloved wares – which they gloriously display on cabinets or open stovetops like trophies. After all, it's hard-earned through time and commitment. If you know anything about maintaining cast iron, you'll know to season them is certainly no easy feat. We'll even go as far to allude the rigorous practice of seasoning cast iron over months and years to a zen-like experience.
Cast iron is amazing, there's no denying it. The age-old tradition of constructing cast iron goes back to over 1000 years in history. Since it's not malleable, it can't be hammered into shape. From liquid metal to cast iron, it's moulded instead. This means cast iron wares are crafted from single metal pieces. Their porous nature also makes them more prone to breakage or chipping. In heated situations, cast iron takes it like a champ largely because of its heft and thickness. When it comes to usage, it's versatile. Whether for searing, pan-frying, roasting, braising or stewing (for enamelled cast iron) – even baking, you can rely on cast iron for a solid meal.
But you see, while it's a charming sentiment to have something grow old with you over time (and generations – a well-cared for cast iron can literally last forever), most of its devoted fans are either professional chefs or experienced home-cooks. They are people you trust to cook up a storm every. single. day. If we're honest, though we try hard, most of us aren't such big cooks/bakers. The cast iron, while a very respectable ware to cook with, is just a little intimidating and… next level. Plus, if we're not already eating out, we just want a comforting meal after a long day at work. Preferably one that isn't too troublesome to prep or to clean up after.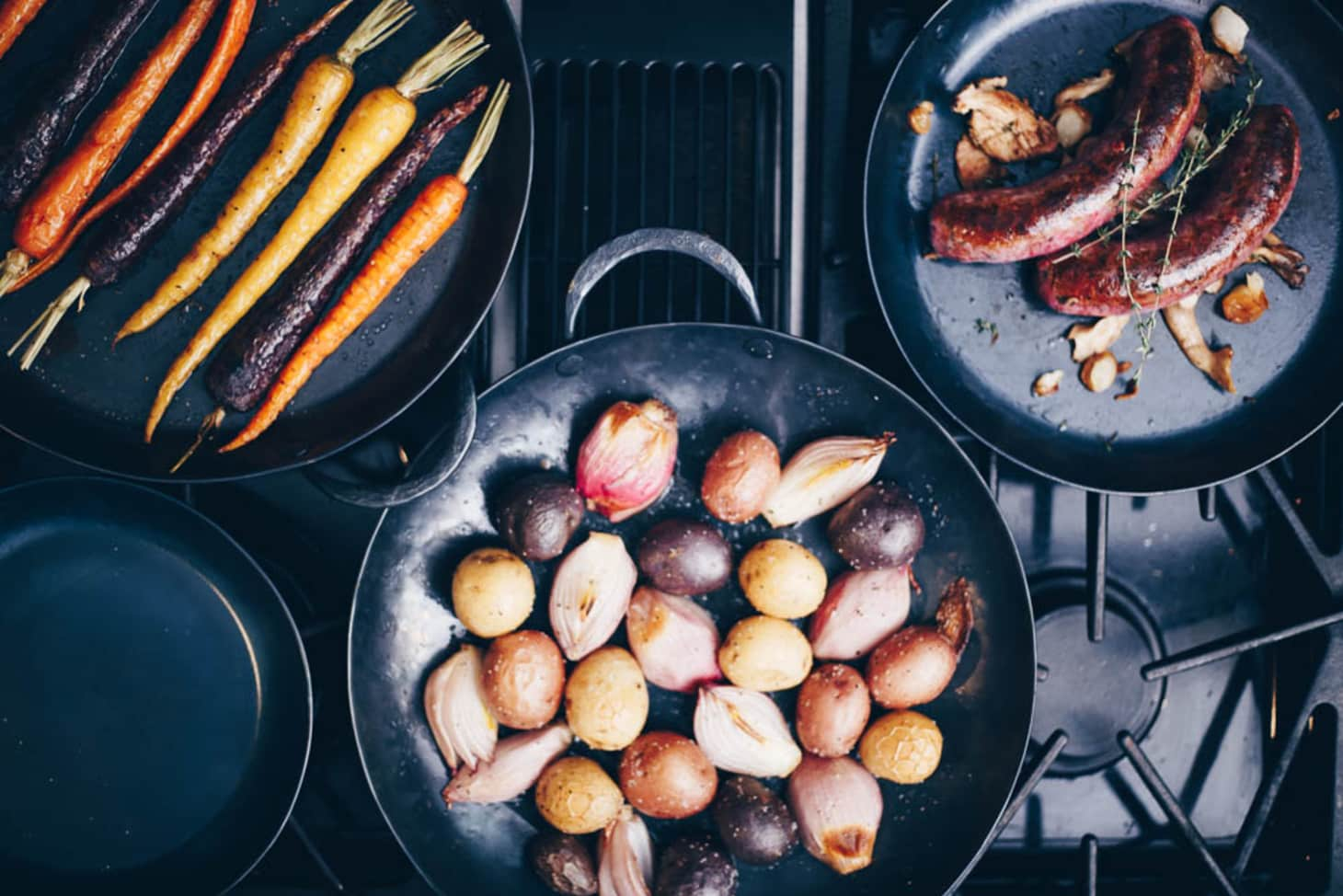 Carbon Steel
Shhhinggg! – enter carbon steel. The cooler, smarter brother of cast iron. Lads want to hang around him, and ladies can't wait to have their hands on him. Carbon steel is like cast iron, but way better. For starters, they're similar in many ways. Like his twin, carbon steel is extremely versatile and almost impossible to ruin. It requires seasoning over time for it to develop that beautiful non-stick patina, but don't let that scare you from its many outstanding benefits. With love and care, it will outlive you like its cast iron brother but with way less effort and time.
So why is carbon steel the way forward? What are their differences?
As a precursor, carbon steel is a modern invention. It's malleable – usually rolled, stamped and forged into shape during construction before it's secured by solid handles and rivets. This translates to superior strength and durability, so don't worry about breakage or chipping. Considering this is the answer to your future, you'll be pleased to know the weight and ease of use is a non-issue. Carbon steel is lightweight and easy to manoeuvre for anyone – but specifically, ladies. Also, if you've ever tried to lift cast iron singlehandedly, you'll know they can be heavy even for usually-light bakeware. Not to mention, extremely hot.
Turn the heat up on carbon steel and you'll be surprised how much more responsive it is. Don't mistake that to burnt food or over-baked goods, though. As quickly as it reacts to heat, it also drops temperature speedily. This means contrary to cast iron which holds heat, carbon steel cools down faster for safer, more immediate handling.
Let's talk about looks. Because of the way they are made, cast iron facades are permeable and have an uneven cooking surface. On the flip-side, carbon steel offers a slicker cooking surface. It's more non-stick and easier to maintain. A smoother finish also regulates high temperature much better, and provide a more even heat distribution for perfectly cooked/baked products.
Cost-wise, cast iron wares tend to veer towards the pricier spectrum. Prices can range from around $50 to well over $350, with a significant quality difference. Carbon steel, on the other hand, has a more consistent quality. No matter how much or little you spend on your carbon steel ware, trust it's totally worth the money. They are also more affordable. With a budget of $50, you can easily get a premium-quality carbon steel ware that promises longevity with some TLC.
Introducing IUIGA's Viennese Bakeware
IUIGA launches exciting new arrivals regularly to elevate your home and lifestyle. This week, our latest drop will lighten your baking (and washing up) woes, and have your domestic goddess humming sweet tunes from the kitchen. The Viennese Bakeware features a series of three luxurious, bronze-toned pans to bake the dreamiest of muffins, cakes and loaves. They check all the boxes for a high-quality carbon steel ware, and bake scrumptious goodies that look good and taste even better.
Unconvinced? Get your mittens on and try it for yourself with these bonus recipes:
Rhubarb and Pistachio Cupcakes
These lovely, bright cupcakes take delightful weekend baking up a notch. While rhubarb may be uncommon in Singapore, find perfect alternatives in berries as they share a similar flavour profile. Adding a homemade rhubarb/berries compote to the batter adds a delicate tartness to the wonderfully creamy icing. Finish the cupcakes with some freshly-made rhubarb/berries purée and chunks of pistachios. Full recipe here with our Viennese Non-Stick 6-Cup Muffin Pan.
White Chocolate Matcha Cake
We can't ever turn down a good Matcha cake. Moist and dense with flavour, but equally lightweight and refreshing to the palate. With a pot of freshly-brewed tea, this has to be our kind of cake to have by the window on a slow weekend. This light and fluffy Matcha cake lay delectably between sweet white chocolate buttercream. Almost too pretty to cut into. Full recipe here with our Viennese Non-Stick Cake Pan.
Lemon and Poppy Seed Drizzle Loaf
This loaf is virtuously light, gorgeously zesty and sports the most delicious drizzle of frosting – what's not to love? Heaven with a cup of tea. And have we mentioned: this is a healthier tea snack to munch on, and perfect for sharing with your girlfriends. Full recipe here with our Viennese Non-Stick Bread and Loaf Pan.
---
New customers get to enjoy a little sweet treat from IUIGA. For your first purchase, use the code BLOG5 at check-out and #treatyourself. We offer speedy next-day delivery.