Reading Time:
5
minutes
Just the same as you, we work pretty hard five days a week. So naturally, weekends are our time to rebalance, reset and turn off a little bit. While our off-duty schedules may change depending on the different commitments we assign ourselves to, one thing remains consistent for us each week – Sundays are always the designated laundry day.
And like the total domestic goddesses we are, we take our laundry time very seriously. After all, clothes maketh the (wo)man, right? Although some people consider it to be a chore, we actually think it's a lovely routine to unwind to. Plus, we also appreciate that laundry is a solitary activity – having that moment of stillness truly quiets our mind. Little did we know growing up, the respite we find in our sun-drenched balcony is the weekend jam we didn't think we needed until we started #adulting.
How Often to Wash Your Clothes
Did you know there are actually different measures for how often you should wash your clothes? More specifically, how often you should wash different clothing items. There aren't hard and fast rules to this, but we thought to share some quick guidelines you can reference to better care for your garments. Because as it turns out, throwing everything into the washer after one wear can do more harm than good. Nonetheless, apply common sense and basic hygiene here: living in Singapore's eternal summer means our garments do need more frequent washing than your wrapped-like-a-bun friends who're living in the UK, for example. When unsure, simply rely on a quick sniff check to determine.
How to Get Great-Smelling Clothes
It's hard to put a finger on it. But when it comes to doing laundry, it's really more in the feeling it gives us than the actual doing itself. And one of the perks has to be the way it floods the entire apartment with this smell of all-good vibes. It's strange magic, isn't it? Fresh laundry has this enigmatic power to smell heartwarming. It gives off this feeling of safety and comfort. Even if we've differing preferences for scent, the smell of new linens is always an assurance of belonging. Granted the scent of our just-washed laundry is largely dependent on the chemical detergent we use, did you know there are actually alternative methods for a non-toxic approach? Not to mention – to have that au naturel scent linger for longer?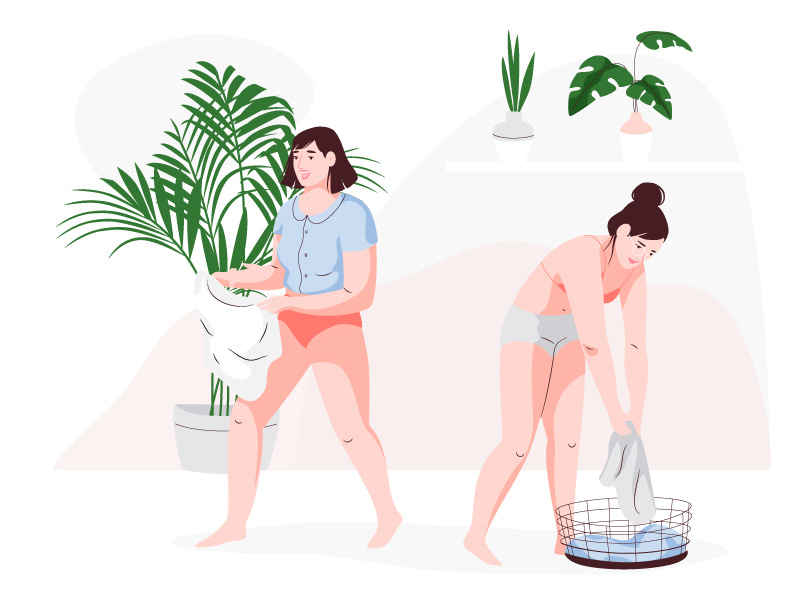 Three Quick Methods
Essential Oils
We normally opt for an unscented detergent for our routine as synthetic fragrances are really harmful to our health in the long run. Additionally, using unscented detergent allows us to personalise and build on the scent of our laundry. As a rule of thumb, essential oils with stronger aromas usually yield better sillage, but lighter ones give off a delicate fragrance that's equally delightful. For a full load, add about three to five drops of your preferred essential oils (or adjust according to how strong the aroma is). If you're worried about staining your clothes, a good tip is to use wool dryer balls. Simply add a few drops of your favourite essential oil onto each ball, then leave them to wash with your laundry. You can even find scented wool dryer balls and skip the essential oil step altogether!
Lavender-Infused Water
We've never tried this personally, but we think it'll work exceptionally. Just imagine the scent it exudes after-wash – it must be divine. To try this out, put some lavender-infused water into a spray bottle and give your garments a generous spritz before throwing it into the washer. If you'd rather get something off-the-shelf for convenience, I'll make a personal recommendation to look into this lavender linen mist. I don't know how, but it literally smells like instant snuggly time. A little goes a long way, but I douse it over clean laundry and fresh linens; sometimes even as a room spray.
Scented Non-Toxic Laundry Soap
For lazy days, we reach intuitively for Dr. Bronner's Peppermint Soap. If peppermint is not your cup of tea, they have several other scents to choose from and an unscented one too. It's basically a non-toxic, pure-castile soap that we can easily dilute for different uses. Just perfect for languid days when we prefer to be on the couch than dazing in the balcony. And if you're taking small steps to live that zero-waste life (good on you!), check out Eco.Le and UnPackt. They sell castile soaps (and more) packaging-free, so you can finally make use of those clean bottles you have under your sink.
Introducing IUIGA's Laundry Essentials
IUIGA launches exciting new arrivals to elevate your home and lifestyle regularly. This week, our latest drop will bring the sunshine right to you – all to uplift your laundry sessions with total #momapproved efficiency. If you're searching to replace your mesh laundry bags with tear-resistant, silky ones, or are finding new space-saving drying solutions for your clothes, we've got just the right tools for you.
In fact, don't let a stronger wind throw you off your laundry game. These super-reliable clothes pegs will hold onto your damp clothes for dear life so you're guaranteed peace of mind. Don't you ever worry again about losing your intimates or kiddo's stuffed toys to the wind – especially not with our multi-purpose, foldable Mesh Laundry Drying Rack that's versatile and durable. It even holds up to 3kg of items!
So if the sound of these has strummed a chord and made your inner domestic goddess sing amidst the cacophonous rumble of the washer, it's really no surprise. She's just taken by the strange beauty of doing laundry – as we have, and looking forward to making the best of her Sundays with IUIGA's essentials.
---
You know what else we really enjoy during the weekend? Our beauty rest. This April, aside from going full throttle with our IUIGA Solitaire campaign, we've been completely intrigued by all-things related to sleep. Our snappy Sleep 101 articles have covered the topic pretty extensively, so head over to read them if good sleep is what's up your alley:
New customers get to enjoy a little sweet treat from IUIGA. For your first purchase, use the code BLOG5 at check-out and #treatyourself. We offer speedy next-day delivery.